Terö-Plastic
GmbH & Co. KG
Baduf 2
79263 Simonswald
Germany
Phone:
+49 7683 913 79 0
Fax:
+49 7683 913 7950
Bringing products into shape
Quality is our tradition. For 30 years, the name Terö-Plastic has been a label for effective plastic products. Solutions from our company are always focused on the needs of our customers: aviation industry, laboratory and measurement, automotive and many more markets.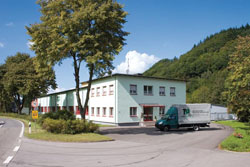 Our advantage: a closed chain, from product development to inhouse mould making, modern injection moulding department with high capacities and sophisticated handling systems. And of course with the service and logistics that you would expect.
We are looking forward to your project!
Terö-Plastic –Full service for your products:
- Product development
- Mould making
- Injection moulding
- Assembly
- Finishing
- Service
DIN EN ISO 9001:2015 certified by